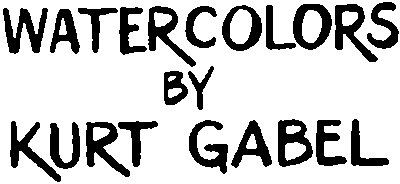 Home | Gallery | Contact Kurt
Marketing/Public Relations Consultant and Account Executive Experience
As owner and Chief Executive of Gabel Advertising, Inc., which employed 23 people in 3 offices, I was responsible for market research and the development of marketing/public relations plans. Clients included--

Fast Food
Retail
Banks
Savings and Loans
Real Estate
Resorts
Manufacturing
High Tech
Business to Business
Sports Teams
Performing Arts
Non-Profits

As agency President, I orchestrated all of our new business programs. This required scripting staff members, as well as developing multimedia presentations. We produced a successful quarterly newsletter directed to prospective clients, news, and advertising media. In 3 years, we grew to be the larges agency in Colorado Springs, CO.
As the President or Board Member of various community, regional, national, and international organizations, I wrote speeches for others and for myself. I produced multimedia presentations for these organizations and often acted as master of ceremonies. I also helped develop fund-raising campaigns for non-profits.
Representative Accomplishments and Capabilities
I have written and produced many TV and radio spots, as well as audio/visual presentations.
I have designed and written print ads, brochures, and newsletters and have made presentations to city governments.
I have made numerous speeches to organizations on the subjects of marketing, advertising, public relations, and salesmanship.
National/International Experience
American Association of Advertising Agencies -- former Rocky Mountain Region Chair
American Advertising Federation -- former Western Region Chair, former member of the National Board, Chair of 1976 Western Regional Meeting.
International Federation of Advertising Agencies -- former President, Chair of 1984 International Conference.